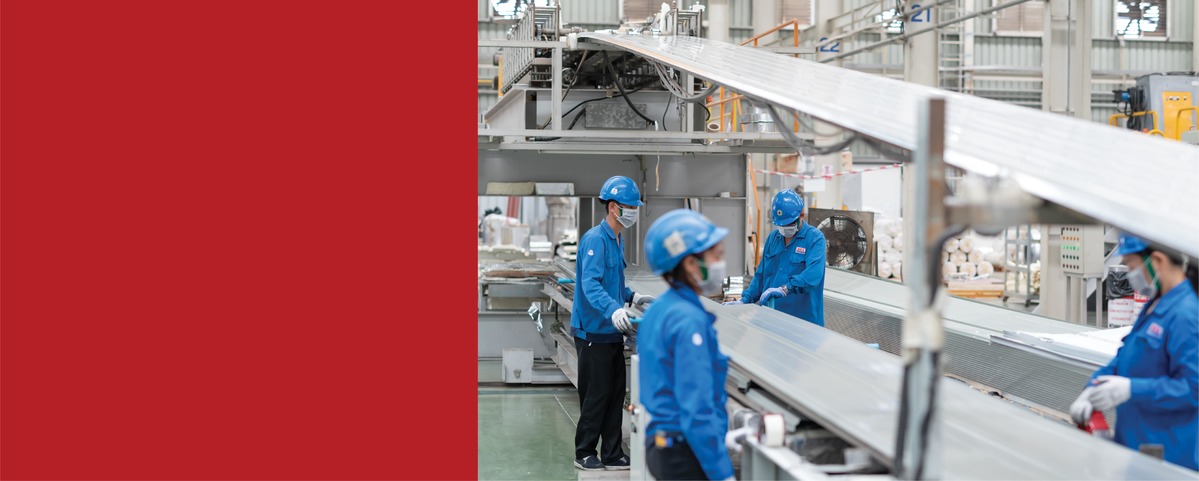 – กวา 30 ปบริษัท มั่นคง สตีล จำกัด ( MKS ) เราเปนผูนำในการผลิตและจำหนาย ผลิตภัณฑ
เมทัลชีท คุณภาพมาตรฐาน สำหรับงานหลังคาและผนังหลังคา PU/PIR กันรอนและทนไฟ,
PIR Sandwich Panel , แปเหล็ก GALV. , SILO หุมฉนวนกันรอนพรอมระบบจัดเก็บ 4.0 ขาวและธัญพืช
ทนการผุกรอน ผลิตดวยเครื่องจักรทันสมัย ใชวัตถุดิบ จากเหล็กแบรนดระดับพรีเมี่ยมเทานั้น
– ดวยคุณสมบัติโดดเดนของ เหล็กเมทัลชีท MKS ที่ผลิตดวยเทคโนโลยีสะอาด สีสรรหลากหลาย
ทนทานตอการผุกรอน สะอาด ปลอดเชื้อ เหมาะกับโรงงานและ อาคารยุคใหม รับรองดวยมาตรฐานระดับโลก
FM Approved รายแรกในไทย มีผลงานกวา 1,000 อาคาร เชน INET DATA CENTER ,หองเย็นขนาดใหญ ,
ราน 7-11 New look กวา 400 สาขาทั่วประเทศ
– ดวยความมุงมั่นตั้งใจที่จะสงมอบ บริการคุณภาพครบวงจร ใหลูกคาเราใสใจตั้งแต
ขั้นตอนการออกแบบ ติดตั้ง และติดตามรับประกันผลงาน รวมถึงพัฒนาสินคาอยางตอเนื่อง
เพื่อเติบโตไปกับลูกคาอยางยั่งยืน
มุ่งมั่นสู่การเป็นผู้นำด้านวัสดุประหยัดพลังงาน ในงานระบบหลังคา ผนังอาคาร และการจัดเก็บสินค้า ที่ลูกค้ามอบความไว้วางใจในประเทศไทย

Moving Forward to be Thailand's most trust building envelope solution provider for construction
มุ่งมั่นสู่การเป็นผู้นำการเปลี่ยนแปลงในอุตสาหกรรมวัสดุก่อสร้างในส่วนระบบหลังคา ผนังอาคาร และพัฒนาพร้อมกับผู้บริโภคไปสู่การสร้างอาคารสมัยใหม่ที่คุ้มค่าและยั่งยืน
Lead the transformation of energy saving and safe material in building envelope construction industry for the sustainable growth with  customers.
เรามุ่งมั่นพัฒนา นวัตกรรมวัสดุสะอาด ปลอดภัย ประหยัดพลังงาน และช่วยรักษาสิ่งแวดล้อม เราจะสร้างการรับรู้ สู่ตลาดให้มากขึ้นอย่างต่อเนื่อง เพิ่มความสามารถในการทำกำไรจากการลดของเสีย และเดินหน้าเป็นหนึ่งในผู้นำการขับเคลื่อน อุตสาหกรรมวัสดุก่อสร้าง อาคารสะอาด ทั้งในอุตสาหกรรมอาหาร ยา เครื่องสำอางค์ ห้องเย็น รวมถึงตลาดยุคใหม่ อาคารสำนักงาน ศุนย์การค้า และที่อยู่อาศัยที่เน้นประหยัดพลังงาน
We keep innovating clean, safe, energy saving construction material with clean technology and environment friendly function. We convey our message of "clean & safe product" into market to raise brand awareness among construction material market. Focus on segment of clean building in e.g., food and drug, cosmetics, cold storage, clean room and new trend building design e.g., retails shop, shopping center, community mall, office building, and pre-fabricated energy saving residential unit.